September 10, 2020 , 7:13 am
Short Orders Concept is Getting a Comeback with Greensboro restaurants
Chow Downtown,
 formerly Downtown Restaurant Week, will be Sept. 14-18 to promote downtown Greensboro restaurants.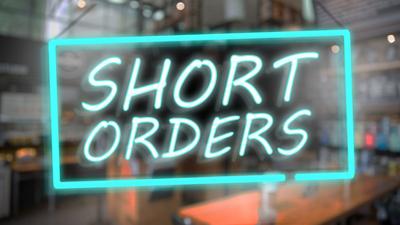 Over 25 restaurants, brew pubs and coffee shops will participate in the event presented by Downtown Greensboro Inc.
"Restaurant week has always been a time for our downtown restaurants to offer great specials, and I expect the re-imagined 2020 version to be no different," Stacy Calfo, DGI's director of marketing, said in a release about the event.
With fewer people dining out and seating capacity cut in half because of concerns of the coronavirus, restaurants continue to struggle to stay in business. For this year's event, some restaurants have adapted to outdoor seating and many will offer budget-friendly takeout specials for couples and families.
Drive-through coffee chain coming
Clutch Coffee Bar, a small chain based in Mooresville, is bringing its drive-through coffee concept to Greensboro.
Brand owners Darren Spicer, John Anderson and Jake Vandermeer plan to open a location at 1405 Sunset Drive just off Battleground Ave.
Clutch uses fair-trade organic coffee and offers espresso and other drinks.
In addition to its two Mooresville locations, Clutch just opened a drive-through in Winston-Salem with another planned for Clemmons.
Chick-fil-A site closes
One of the busiest Chick-fil-A locations in Greensboro has temporarily closed.
Chick-fil-A at 611 Pembroke Road at Friendly Center announced on its Facebook page it will be closed for two months for renovation.
The restaurant said the renovation will be a near-complete teardown but the dining room will be saved with a few changes.
The makeover follows other remodels at Chick-fil-A locations across the country.
The Pembroke Road restaurant said it will reopen in November.
Uncertainty for food truck festival
COVID-19 squelched the Greensboro Food Truck Festival last spring. Will it be held this fall?
That's a "Big, fat, maybe," according to the event's Facebook page.
The event is targeted to be Oct. 11 in downtown Greensboro.
For updates, follow the Greensboro Food Truck Festival event page on Facebook or visit 
www.greensborofoodtruckfestivals.com
 where you can find a page to buy gift cards from trucks struggling with lack of gigs during the coronavirus pandemic.
Brunch offered again
Brunch returns to The Historic Magnolia House at 442 Gorrell St. in Greensboro.
The September menu includes a vegetable, burger or chicken wing option.
The Magnolia House is a former African American hotel that was listed in the Green Book, a guide of accommodations and services for Black people during segregation. It is one of only four Green Book sites in North Carolina still in operation. It is now operated as an event venue.
Virtual dinner party fundraiser
A virtual dinner party to benefit The Barnabas Network in Greensboro will be Sept. 23.
Holy Trinity Episcopal Church will provide the packaged to-go meal for two that includes lasagna, salad, bread, dessert and bottle of wine.
Tune in for a Barnabas Network Zoom at 7 p.m.
The Barnabas Network is a nonprofit that helps furnish homes of those transitioning from abusive relationships, homelessness and other challenges that have left people and families without a home.
Chain promotions
Feed a family of five with Carrabba's Italian Grill's fully prepared Family Bundles that include an entree, salad and bread starting at $34.99. Options include lasagna, spaghetti, chicken Parmesan and salmon saporito.
Outback Steakhouse has introduced the Steak 'N Mate Combos featuring pairings that include sirloin and shrimp, sirloin and ribs, sirloin and grilled chicken, ribeye and shrimp, and filet mignon and lobster. Other new menu additions include braised beef Bonzer-Wich, prime rib sandwich, Bloomin' fried chicken, pork and pineapple medallions, Toowoomba salmon, butter cake, and chocolate fondue flight.
Berry oat protein smoothie and chicken Parma flatbread are two new items Tropical Smoothie Cafe is offering for the fall.
Wendy's has brought back the pretzel bun with its new Pretzel Bacon Pub Cheeseburger.
More from Prashant Tambe
December 21, 2020
more_vert
The Report for US pet food and treat industry
close The Report for US pet food and treat industry
December 16, 2020
more_vert
Audio Module Market Trends, Business Growth, Leadi…
close Audio Module Market Trends, Business Growth, Leading Players and Forecast 2027
October 13, 2020
more_vert
Alameda County officials are pushing forward a pla…
close Alameda County officials are pushing forward a plan to allow home cooks to turn their kitchens into …